Plate 'n' Sheet will create and unfold a 2D template and 3D model in under a minute
Unfolding software for commonly used shapes used in the Metals, Plastics and Insulation Industries. Stand-alone program. Does not require additional software. Print the pattern layout or export as a DXF file to CNC machine or other CAD software.
See our new video about Plate 'n' Sheet


(Loads local ASVIC page)
Features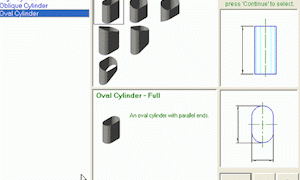 When we say Plate 'n' Sheet does everything for you – we mean it really does everything for you. Plate 'n' Sheet requires little training and zero CAD experience.
Standalone – No CAD required
Creates hundreds of variations
Fast, accurate and simple to use
Perfect for CNC Plotters and Plasma devices
Saves as DXF
Has a Built-In Area and Mass Calculation
Rotates 3D models in real time
Supports Lap Join
Export your drawing directly to AutoCAD(r) if needed
Built-in automatic dimensioning
Creates a Material List with Costs Estimator
Saves pattern as DXF or export to AutoCAD
Plus many more features…
Visit your local ASVIC office for more.