Latest Mech-Q Updates
Our latest Mech-Q release offers a new piping and features that integrates inside our engineering and pipeline software suite and allows CAD users to dynamically rotate various fittings into place at any angle.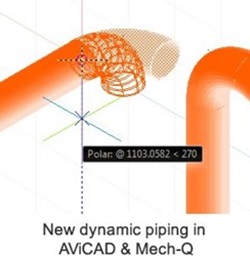 The Mech-Q Suite is available for AutoCAD and IntelliCAD as an add-on. The Mech-Q Suite can optionally be purchase as a part of a 2D/3D CAD stand-alone package called AViCAD Pro.
Highlights for this new version:
Compatible with AutoCAD 2000-2023
Piping & Ducting – Major Update
More elbows options, Easier orientation & placement
More Branches options. Easier orientation & placement
Added Round to Rectangular
Tees Several 3D improvements
Piping Several improvements
Added Isometric Equipment
Improved Fasteners 3D
Structural 3D – easier Z-direction
More elbows & reducers options
Improved setup install for AutoCAD
Other recent improvements
Pipe fittings now appear immediately after the 'Point Direction' pick is made. When the fitting comes in at this point the user will be able to see the fitting while picking a new direction.
This addition is a powerful feature for 3-D mechanical detailing. Now piping designers can create 3D models without having to set the appropriate 3D Coordinates (UCS) while designing their schematics.
Compatibility release with improvements
Compatibility
Mech-Q is now fully compatible with: AutoCAD 2023, Bricscad V22,IntelliCAD 2022, ElettraCAD 2021
Improved
Ducting: 3D-Preset Elevation function, Elbows & Bends – More efficient drawing steps , Flexible Duct – Extend range & new options.
Added
Piping: Reducers not setting next size, Sanitary Piping – 90deg Elb, CI & M/C coupling fixed , BOM – not saving table setting
Fixed
Ducting: Tees, Cross – no image, Sidewall registers, Transitions, Elbows (SQ) – Rotation problem , Branches Rec. Shoe Trap
Improvements and Additions
Added
ZWmech now compatible with ZWCAD 2022
Added
Add option to "Hard" Reset the Settings and CFG
Added
Vessels: Add No Support option
Added
ISO Piping BOM: Show CFG at start
Added
ISO Piping – Add custom object
Added
Ecc Reducers – Improve rotation options
Added
Add EN standard pipe, fittings & flanges
Added
2D Duct: Allow UCS rotation & drawing
Added
Duct Transforms: Add Rnd to FO and FO to Rnd
Mech-Q is now compatible with AutoCAD 2022
Added
General: Added New Units options: Metric (cm) English (Ft)
4.24.001 (General)
1 year ago
Mech-Q now compatible, AviCAD 2021, CADian 2021, progeCAD 2021 ZWmech and ZWCAD 2021
Added
GEN BOM: Balloon data input improved
Added
CFG now saved in drawing disctionary Improving performance, versatility & options
Added
Minimise data reading from extenal files Improving loading performance & execution speed
Added
Improved data files & "Reset Defaults" operation
4.24.001 (Piping)
1 year ago
Improvements and Additions
Added
PE-BW – added more reducer sizes
Added
Weldolets – Added more sizes
Added
Add options to always start with main dialogue
4.24.001 (Piping Fixes)
1 year ago
Several bug fixes and minor software errors fixed.
Added
P&ID: "Not Assigned value error – fixed
Added
ISO Victaulic coupling – draw error fixed
Added
PVC 45 Elb (3d) – Fix profile
Added
Vessels: edit window not working – fixed
Added
MJ Fitting – correct d'base file
Added
AutoSlope not turning off – fixed
4.24.001 (Ducting Fixes)
1 year ago
Added
Correct layer color – first item drawn
Added
Development not working – fixed
Added
SQ Throat Elbow (3d) – Angle fixed