Latest Mech-Q Updates
Our latest Mech-Q release offers a new piping and features that integrates inside our engineering and pipeline software suite and allows CAD users to dynamically rotate various fittings into place at any angle.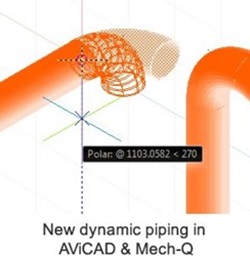 The Mech-Q Suite is available for AutoCAD and IntelliCAD as an add-on. The Mech-Q Suite can optionally be purchase as a part of a 2D/3D CAD stand-alone package called AViCAD Pro.
Highlights for this new version:
Compatible with AutoCAD 2000-2021
Piping & Ducting – Major Update
More elbows options, Easier orientation & placement
More Branches options. Easier orientation & placement
Added Round to Rectangular
Tees Several 3D improvements
Piping Several improvements
Added Isometric Equipment
Improved Fasteners 3D
Structural 3D – easier Z-direction
More elbows & reducers options
Improved setup for AutoCAD 2015-2021
Other recent improvements
Pipe fittings now appear immediately after the 'Point Direction' pick is made. When the fitting comes in at this point the user will be able to see the fitting while picking a new direction.
This addition is a powerful feature for 3-D mechanical detailing. Now piping designers can create 3D models without having to set the appropriate 3D Coordinates (UCS) while designing their schematics.