How to unfold 3D shapes and create 2D templates
Plate 'n' Sheet REALLY is as easy as it looks!
Plate 'n' Sheet Professional Software unfolds sheet metal shapes commonly used in the ducting, piping and other steel fabrication industries. Flattened shapes can be produced quickly and easily by entering values such as diameter, height and angles into a user-friendly dialogue box.
No need to construct a 3D model. Quick results can be obtained by users with very little CAD experience. Our unfolding sheet metal software easily unfold hundreds of shapes without using any drafting or 3D modeling programs.
Shapes and transitions include: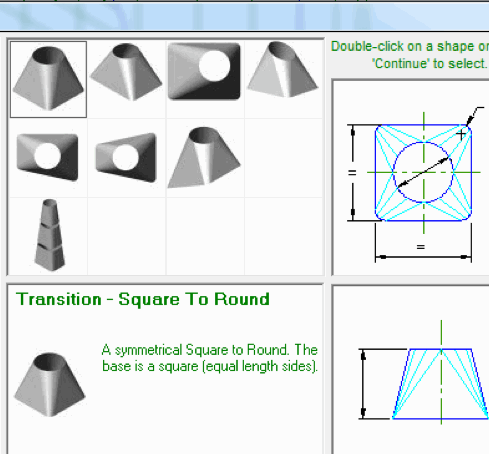 Branches,
Oblique cones and Reducers.
Lobster-back bends.
Breech pieces
Prisms Pyramids
Right cone frustums
Right cone truncations
Pipe to cone branches
Rectangle to round
Oblique cylinders
Elbows at any angle
Transitions
Auger-Screw
and lots more!

The shapes may be viewed as either a 3D model or as a flat pattern at any stage of the process. Tools are supplied to zoom in or out to see the shape in detail. If it is being viewed as a model, several viewing angles (top, front, side, end and four isometric angles) are available at the click of a button and true length measurements may be taken from the model.



(Also loads local ASVIC page to download and read more about Plate 'n' Sheet)