Our Full Engineering Suite
Mech-Q is a Engineering CAD add-on that runs inside your CAD application. It contains a Full Engineering Suite which includes Mechanical, Piping, Ducting & Structural modules.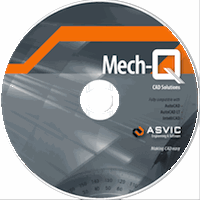 MechQ Mechanical – Mechanical Fasteners
Mech-Q Ducting – HVAC Utilities
Mech-Q Piping – Piping, P&ID, Pumps
Mech-Q Structural- Structural Steel & Stairs
Many of the utilities lists above are equipped with 2D ISO & 3D drawing functionality and include Bill Of Materials.
Modules can either be purchased separately or as an entire suite of tools. When you combine 2 or more modules you will receive a discount.
Mech-Q will run inside all versions of AutoCAD (2000-2021), Bricscad, Cadian, ProgeCAD, GstarCAD, AcelliCAD and many other IntelliCAD based CAD packages.
Please note: We also offer a maintenance plan which allows you to upgrade our Mechanical CAD Software for free. Otherwise an upgrade fee will apply if you change CAD versions.